Choosing the Right E-Commerce Platform: WooCommerce vs BigCommerce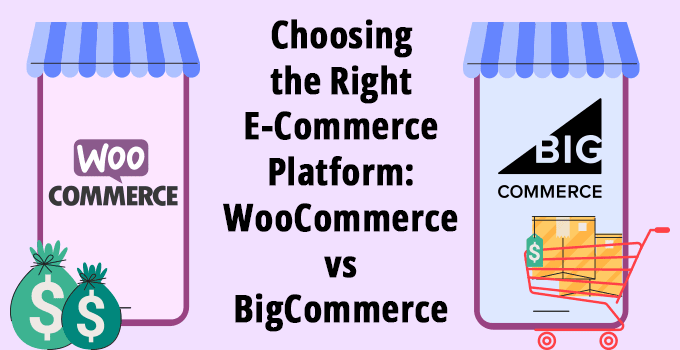 In the previous post – Magento vs WooCommerce, we went through a detailed comparison of both eCommerce platforms. In this post, we will make a detailed comparison of WooCommerce vs BigCommerce.
We have already seen the real statistics of the eCommerce market in the previous post, including the future of online stores. What are you waiting for if you haven't decided to launch your store online? Select your domain, hosting plan, and launch your online store today. We are here to assist you with bringing your business online.
A report from Statista shows that WooCommerce is one of the most popular eCommerce platforms, with a market share of 36%, and BigCommerce has a market share of around 1%. But let's not judge them with these statistics. We will see a detailed comparison between these two platforms.
As we know WooCommerce is a lightweight plugin that resides with WordPress. You just need to perform a few clicks to install and configure it. You can then manage your products, pricing, orders, and everything within the same WordPress interface and WooCommerce admin panel.
BigCommerce is an eCommerce platform that provides Software-as-a-Service to retailers. The platform includes online store creation, search engine optimization, hosting, marketing, and security for small to enterprise-sized businesses.
In this guide, we will compare WooCommerce vs BigCommerce, their key features, pros and cons, use cases, performance, security, pricing, and much more. Once you go through this guide, you will have a complete idea of which solution is right for you.
WooCommerce – Free and Flexible eCommerce Platform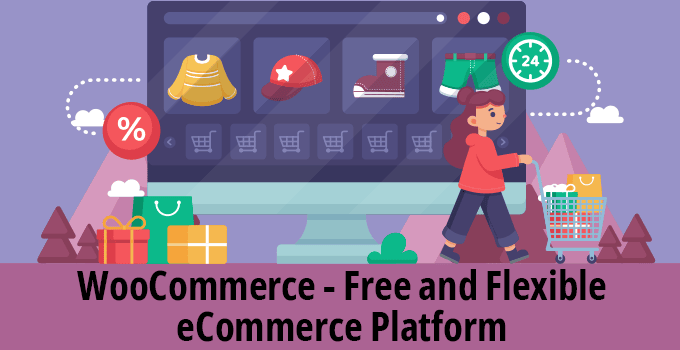 WooCommerce is a great eCommerce plugin that resides with WordPress. You can easily set up your store and sell your products.
You do not need a high-end hosting to run your store with WooCommerce. Just a simple hosting that supports WordPress and you are good to go. Once you have the WordPress site ready, with a few clicks, you can install WooCommerce and launch your store.
Remember to check out our complete guide on WooCommerce setup.
WooCommerce Features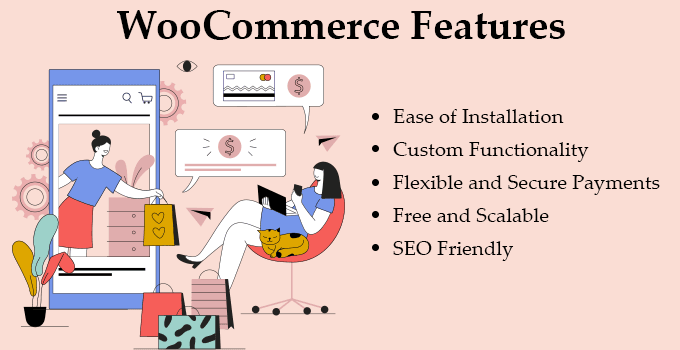 Though WooCommerce is a simple plugin, it has plenty of useful features that every retailer loves. Let's explore them.
1) Ease of Installation
It is very easy to install and configure WooCommerce. You do not have to be a techno expert to run it. Just install WordPress in your hosting account, and install a plugin with a few clicks. Then you will have an easy user interface to manage your entire store and order process.
2) Custom Functionality
The built-in functionalities are enough to run a store. But, if you want to make the customization, you can always do it with code changes or by installing additional plugins. You can also get help from the great WooCommerce community and online help articles.
3) Flexible and Secure Payments
WooCommerce can accept major Credit Cards, bank transfers, checks, and cash on delivery. You can also integrate it with 100+ region-specific payment gateways such as; WooCommerce Payments, PayPal, Stripe, Square, Amazon Pay, Apple Pay, Google Pay, etc.
4) Free and Scalable
It costs nothing to add WooCommerce to a WordPress site. There is no transaction fee beyond that of the payment service provider, making WooCommerce the most affordable way to start selling physical and digital goods online and to scale from 1 to 100,000+ orders daily.
5) SEO Friendly
WordPress is the best platform for SEO, and WooCommerce runs on WordPress, so you can get advantages of this SEO-friendly platform. WooCommerce SEO requires consistent efforts, but with WordPress/WooCommerce, optimizing your website for SEO is easy.
WooCommerce Pros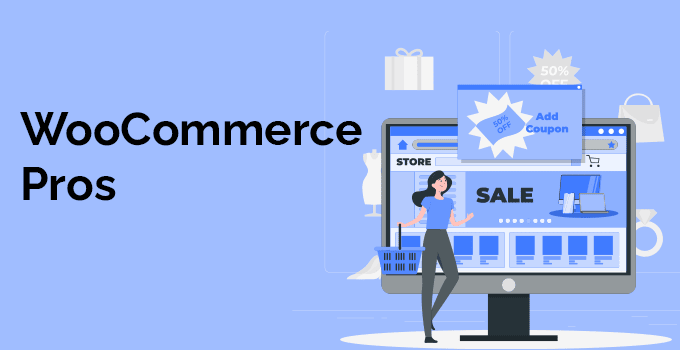 1) WooCommerce is an open-source plugin. It means you do not need to pay anything to use it.
2) WooCommerce is a user-friendly plugin. So, its setup process is straightforward.
3) You can use WooCommerce on any WordPress theme.
4) WooCommerce offers so many payment gateway options. So, you can integrate the one that suits your requirements the most.
5) The store management, including product, order, and payment management, is very easy with WooCommerce.
WooCommerce Cons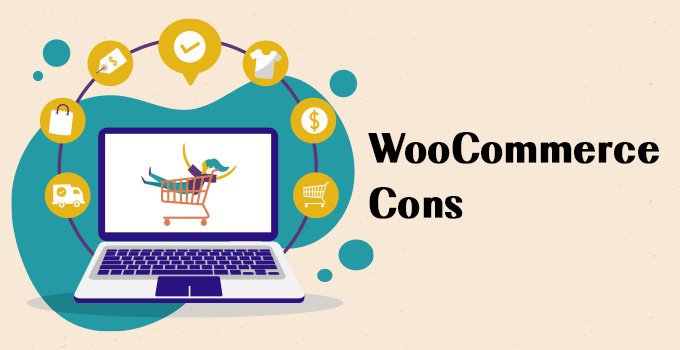 1) You can not use WooCommerce independently. You can use it with WordPress only.
2) When you have so many plugins installed, there might be an issue while updating the existing plugins or installing new plugins. One should always test the plugins in a demo environment before updating/installing it in a live store environment.
3) You may need to install additional plugins to achieve your customization goals.
WooCommerce Use cases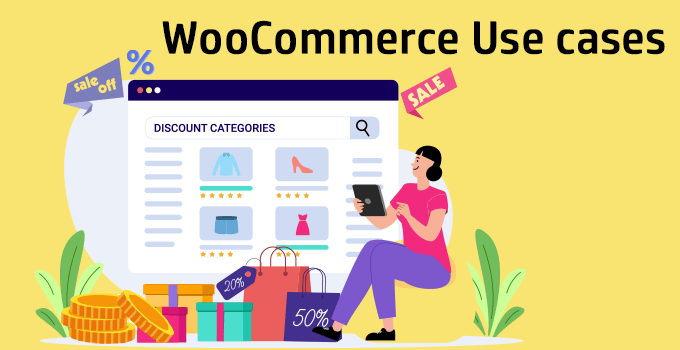 1) If you have a limited budget to start your store, you should go with WooCommerce.
2) If your store has minimal traffic, WooCommerce with WordPress is the best option for you.
3) If you do not want to get into the technicality and customization of your store, WooCommerce is the option you should go with.
BigCommerce – Multifaceted Hosted eCommerce Solution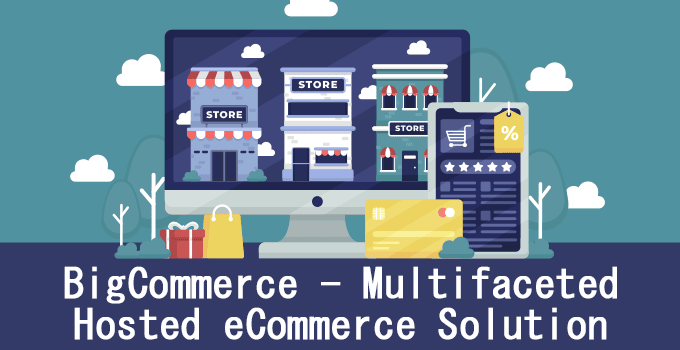 BigCommerce is called software as a solution (SaaS) or all-in-one platform. Purchasing a subscription plan lets you create a BigCommerce store easily and quickly. It is a fully hosted eCommerce platform. It means that BigCommerce gives you a whole package of services, including hosting, design, content, SEO, payments, and marketing features for your store.
According to a report by Builtwith, 140,000+ websites are BigCommerce customers. And 40,000+ live websites are using BigCommerce as their eCommerce platform.
The downside of using BigCommerce is the lack of customization abilities because you have limited tools for the BigCommerce platform.
BigCommerce Features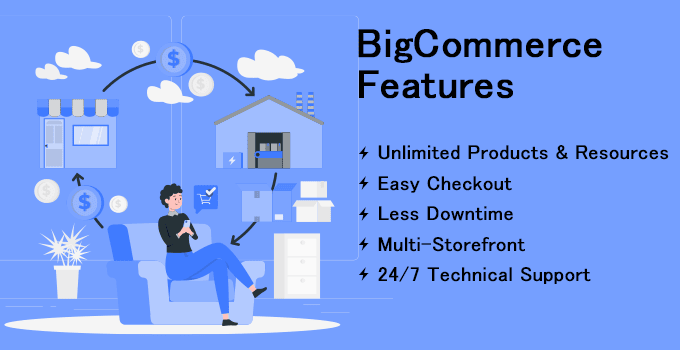 Since BigCommerce is a paid platform, it comes bundled with great features. Let's check them out.
1) Unlimited Products & Resources
Even the beginner plan – Standard ($29/mo) comes with unlimited products. You can add as many products as you want. You will also have unlimited file storage and bandwidth options. So that, you will never run out of resources.
2) Easy Checkout
If the order flow and checkout process is complicated, the customers will mostly not buy your products. BigCommerce offers an effortless order flow with a one-page checkout option. Your clients will find it easy to place the order and pay.
3) Less Downtime
BigCommerce uses an off-site hosting solution like AWS that allows it to offer a 99% uptime guarantee. You can keep your store online 24/7, even during holiday rush or flash sales. Another upside of BigCommerce cloud hosting is that you won't have to factor in the cost of maintenance and updates.
4) Multi-Storefront
Create and manage multiple unique storefronts within your BigCommerce dashboard. Whether you manage multiple brands, sell across customer segments, or build across different regions – streamline your operations from one single account.
5) 24/7 Technical Support
When you are using BigCommerce as your eCommerce platform, you do not need to worry about technical support. With each plan, you get 24/7 live chat, email, and US-based phone support for any technical issue you may have.
BigCommerce Pros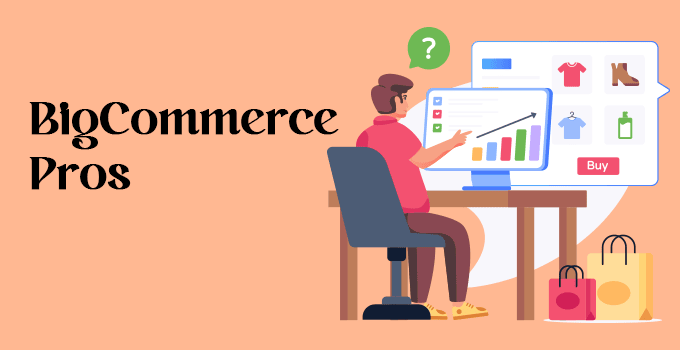 1) BigCommerce is a software as a solution(SaaS), so you can get rid of manual setup, installation, etc. You will have a ready-to-go environment.
2) It includes tons of features than any other eCommerce platform.
3) BigCommerce is a suitable ecommerce platform for both small and big stores.
4) Save the money. BigCommerce doesn't charge transaction fees with any of their plans.
5) When it comes to SEO capabilities, BigCommerce is one of the best store builders.
BigCommerce Cons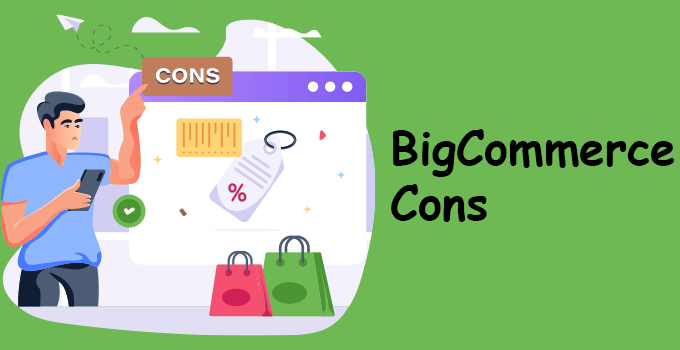 1) BigCommerce is a paid platform. You can't get it for free like WooCommerce.
2) Each BigCommerce plan comes with an annual sales threshold. In other words, you'll be automatically upgraded to a higher plan if the annual sales limit is exceeded.
3) If you want to sell subscriptions or take recurring payments, you must pay for a third-party app.
BigCommerce Use cases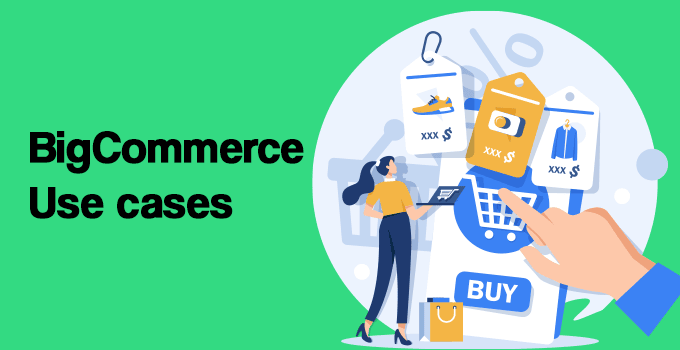 1) BigCommerce is the choice for the retailers who are making some profit and can bear the monthly license cost.
2) If you do not want to put any effort technically for your store, you can go with BigCommerce.
3) If you often need technical assistance for your store, BigCommerce is your option.
WooCommerce vs BigCommerce Comparison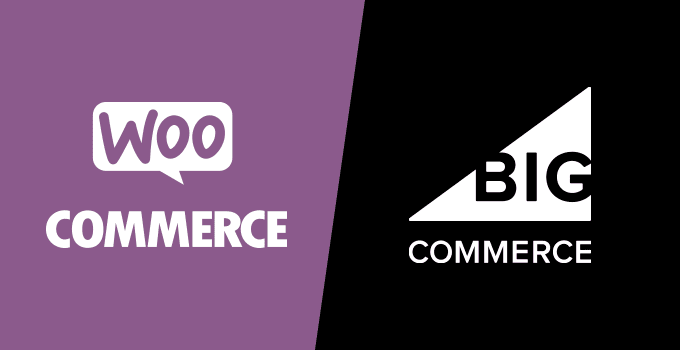 Feature
WooCommerce
BigCommerce
Pricing
Free
Standard: $29/mo

Plus: $79/mo

Pro: $299/mo

Ease of use
Requires a knowledge of WordPress and WooCommerce plugin setup
With BigCommerce, starting and maintaining an eCommerce store is easy.
Customizability
Plenty of options for the customization
Limited tools for the customization
Scalability
Fully Scalable but restricted to your hosting plan resources
Fully Scalable
Security
You will need to maintain the security of your store, WordPress, WooCommerce plugin, etc.
The best security is included with your BigCommerce package.
SEO
Required SEO assistance is included.
Required SEO assistance is included.
Payment options
WooCommerce offers PayPal and Stripe payments by default. It also supports all major payment gateways through extensions and add-ons.
BigCommerce offers plenty of payment options to let you accept payments. It has built-in native integrations with the best payment platforms in the industry, including PayPal powered by Braintree, Square, Adyen, Stripe, Authorize.net, and CyberSource.
Customer support
Limited. You can get help from online help topics and WooCommerce Community.
You can get 24/7 technical support from BigCommerce experts (Included in your plan).
Third-party integrations
WooCommerce gives you access to more than 55,000 free WordPress plugins and thousands of premium plugins.
BigCommerce also comes with hundreds of third-party apps and integrations (Both free and paid).
WooCommerce vs BigCommerce Head-to-Head Comparison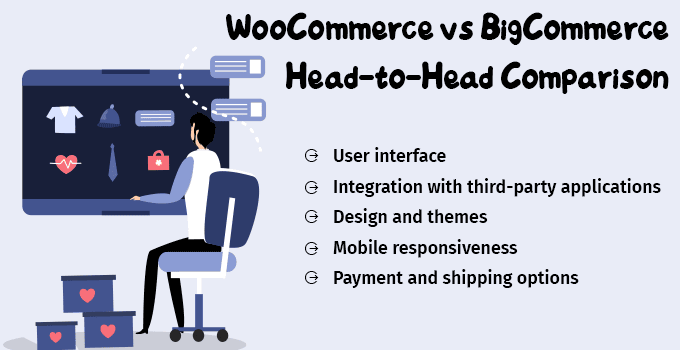 There are so many advantages and disadvantages of both platforms. But they are perfect for their respective business models. If we go into detail, we can compare so many features of them. But let's take a look at some most important features.
1) WooCommerce vs BigCommerce – User interface
Even if you invest thousands of dollars to create a unique store, your investment is in vain if it is not user-friendly.
Most of the people who run a website have found WordPress to be very easy to manage. WooCommerce runs on it and has a very similar user interface. You can quickly find various options to manage your store.
On the other hand, BigCommerce also has a very excellent user interface. You will find all the options to manage your store from your admin panel. However, due to lots of options, you may encounter difficulties or time-consuming while working on your admin panel due to many options.
2) WooCommerce vs BigCommerce – Integration with third-party applications
Both WooCommerce and BigCommerce support integration with third-party applications.
With WooCommerce, you will find many options to perform certain tasks in your store. You will have thousands of free as well as paid WordPress plugins that support WooCommerce stores.
Since BigCommerce is a paid platform, you will have limited third-party application support. Sometimes, you may need to contact their support team to find the relevant applications.
3) WooCommerce vs BigCommerce – Design and themes
You can install any WordPress theme for your online store. WooCommerce is compatible with any WordPress theme. You can even customize them as per your requirements.
You will get a limited theme with BigCommerce. Also, you can get additional themes/extensions for the BigCommerce website, which are charged monthly.
4) WooCommerce vs BigCommerce –  Mobile responsiveness
We have a tie here. Both WooCommerce and BigCommerce offer responsive designs for your store. The added advantage of BigCommerce is, you will get a mobile app to manage your store.
5) WooCommerce vs BigCommerce – Payment and shipping options
Both platforms support sufficient payment gateway options to run a small or large-scale store. WooCommerce has its own WooCommerce Payment gateway option. On the other hand, BigCommerce has a real-time shipping quotes option.
WooCommerce vs BigCommerce – Conclusion
Now, we know that WooCommerce is simply a light-weight plugin that is available free of cost. And, you need to bear monthly costs to run your store with BigCommerce. Both the platforms have great features that meet different business models. You should choose one wisely, looking at your exact store requirements.
If you can manage domain, hosting, WordPress, plugin setup by yourself and do not want to pay extra for your store, WooCommerce is the best option. But, if you do not want to manage any technical aspects on your own and can afford the extra cost, BigCommerce is for you.
If you have ever used any of these eCommerce platforms or are planning to launch one and have questions or suggestions, please write to us. Our experts will address all your queries.