Magento vs WooCommerce: Which E-Commerce Platform Reigns Supreme?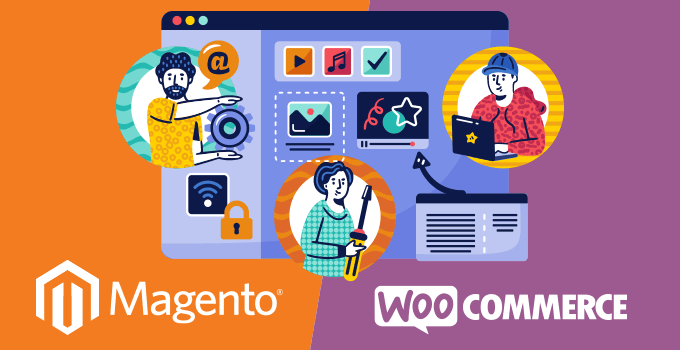 Before we begin our main topic – Magento vs WooCommerce, let's take a look at some actual statistical data.
According to a survey conducted by Forbes, 20.8% of retail purchases are expected to occur online in 2023. And by 2026, 24% of retail purchases are expected to occur online. But, if we take a look at the revenue part, the global e-commerce market is expected to total $6.3 trillion in 2023. And by 2026, the e-commerce market is expected to total over $8.1 trillion. Can you imagine the widespread use of online businesses using eCommerce stores?
If these numbers make you think it's a competitive market – don't worry. Less than 1M of these sites sell more than $1,000/year, so there's tons of room for growth. Many people planning to take their store online think that it might be hard to manage things technically and give up. But, it is relatively easy to manage your store online. You just need a domain, web hosting, and a store like Magento or WooCommerce to bring your business online.
Magento is a more stable and secure eCommerce solution mostly preferred by stable and large-cap businesses with more long-term vision. WooCommerce is a user-friendly and low-cost eCommerce solution, so it is mainly preferred by store owners with limited budgets and little technical expertise.
In this guide, we will compare Magento vs WooCommerce, their key features, pros and cons, use cases, performance, security, pricing, and much more. Once you go through this guide, you will have a complete idea of which solution is right for you.
Magento – Stable & Secure eCommerce Platform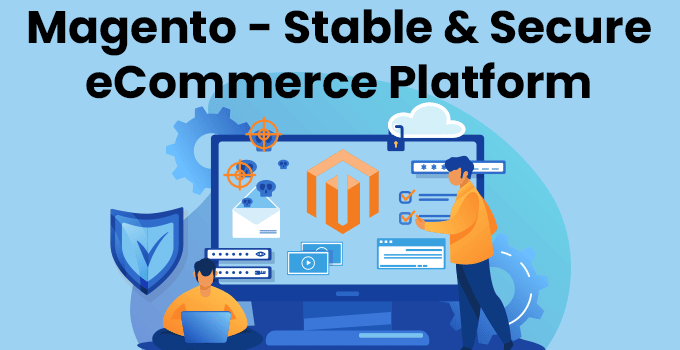 Magento is an eCommerce store widely known for its stability and best security. People also call it a CMS (Content Management System) with an eCommerce store. Magento came into existence in August 2007 and has released multiple versions and product updates. Later, in 2018, Adobe purchased it and is also known as "Adobe Commerce." According to Builtwith, 700,000+ websites are Magento customers; 150,000+ live websites use Magento.
There are two versions of Magento: Adobe Commerce (formerly known as Magento Enterprise) and Magento Open Source (formerly known as Magento Community). Magento Open Source is free to download and install. However, Magento Commerce is an enterprise version that is paid. Its pricing starts from $22,000 annually, based on your use case. The license cost of the Magento Enterprise version varies as per your overall revenue. The more your annual gross revenue is, the higher you have to pay.
Magento Features
Magento includes tons of extremely valuable features which are sufficient to run an effective eCommerce store. So, without wasting much time, let's explore them.
1) Site Management
You can control multiple websites and stores from one administration panel. It offers a fully customizable design using templates. Magento also supports multiple languages and currencies. It allows batch import-export of catalog and customer information. It also includes an easy-to-use content management system for informational and landing pages.
2) Catalog Management
Magento offers practical yet straightforward, fully configurable catalog management. You can create different pricing for different customer groups. The catalog management includes; virtual products, downloadable/digital products with samples, unlimited product attributes, batch updates to products from the admin panel, automatic image resizing and watermarking, and much more.
3) Checkout, Payment, and Shipping
Magento offers; one-page checkout, guest checkout, multiple PayPal gateway integration, integration with Authorize.net, shipping to multiple addresses in a single order, tax management, additional payment extensions, selection of destination countries, flat-rate shipping per order, free shipping, on-site order tracking and much more.
4) International Support
With Magento, you can take advantage of: support for localization, multiple currencies, and tax rates (Includes support for WEEE/DEEE in EU), support for accented characters and right-to-left text, a configurable list of allowed countries for (site registration, shipping destination addresses, billing addresses, etc.), European union VAT-ID validation.
5) Analytics and Reporting
Magento offers extensive analytics and reporting, which includes; integration with Google Analytics, sales reports, tax reports, abandoned shopping cart reports, viewed product reports, purchased product reports, low stock reports, search term reports, product review reports, coupon usage reports, total sales invoices, total sales refunded, and many more reports.
6) SEO – Search Engine Optimization
Magento creates pages that are 100% search engine friendly. It offers search engine-friendly URLs, meta information for products, categories, content pages, auto-generated site maps, auto-generated popular search terms pages, Google content API for shopping, and much more.
Apart from the above features, Magento offers Marketing, Promotions and Conversion Tools, Catalog Browsing, Order Management, Customer Accounts, Customer Service, Mobile HTML5 (pre-integrated), Responsive Design, and Native Device Applications with plenty of features.
Magento Pros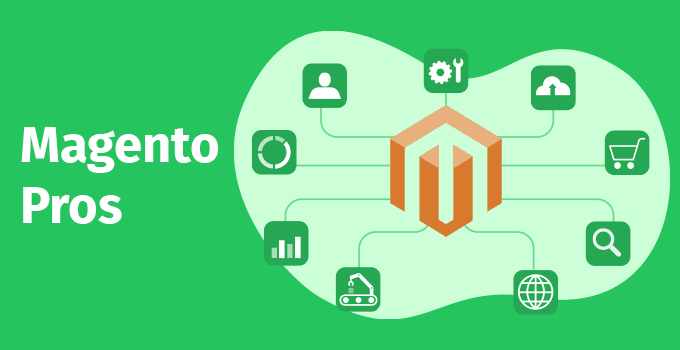 1) Magento open source version is free to use. It offers basic functionalities that can be further enhanced by custom modules and/or ready-made extensions from the Magento marketplace.
2) Since the code is open-source, you can modify the code, customize templates, twist and turn the features exactly how you want.
3) Third-party extensions or building one from scratch to make your store more appealing to customers is possible with Magento.
4) Magento's API-led architecture makes integrating third-party systems like ERP, CRM, and payment methods easier without slowing down your website.
5) Whether you're selling 100 items or 1,000,000 SKUs, Magento will deal with it effortlessly without any major performance tuning. In fact, one of the Magento benefits is that the platform can support 500k+ products on a single server with a decent amount of RAM (32-64GB).
6) Magento gives all the necessary tools to build a responsive eCommerce website for various devices, including iPhones, iPads, and Androids.
Magento Cons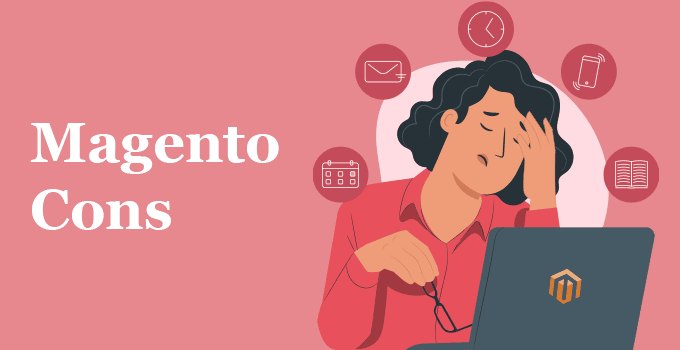 ⇒ If we talk about Magento Enterprise, one of the biggest Magento cons is its cost. Magento is an expensive solution compared to SaaS platforms like Shopify or BigCommerce.
⇒ If you decide to save money on hiring a Magento developer and build your store independently, get ready to become a developer! You must learn the principles of object-oriented programming, PHP, MySQL, and Git.
⇒ Magento is a layered software. Its API-led architecture allows you to integrate third-party software to customize your store. However, because of the complexity of the code, the customization process is always time-consuming.
Magento Use cases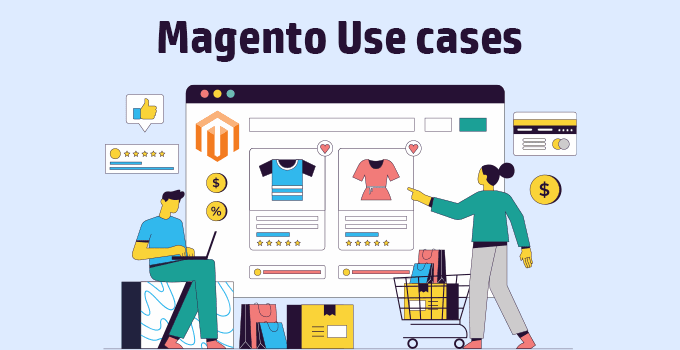 ⇒ If you are planning to sell your products online but don't want to invest your time in technical stuff, you can use Magento open source with its default features. You can quickly sell your products online.
⇒ If you are looking to create your online store with plenty of features and customization, you can surely go with Magento Enterprise.
⇒ If your requirement demands customized website pages and a large-scale product catalog, Magento is the perfect choice for you.
WooCommerce – User-friendly, Lighter & Faster eCommerce Platform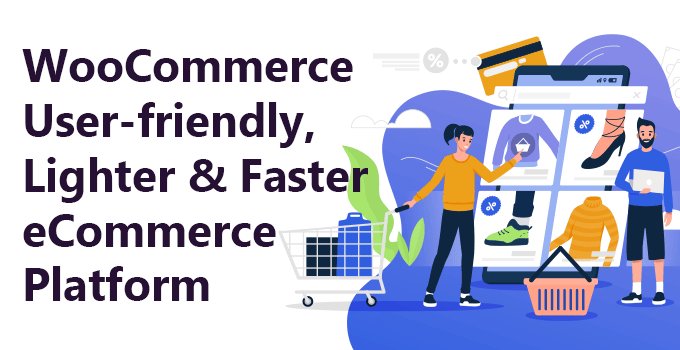 WooCommerce is a powerful yet open-source plugin incorporated into WordPress. It came into existence in 2011 and has been continuously making progress. The current statistics of Builtwith show 13.5 million+ websites use WooCommerce with a market share of 29%.
WooCommerce was developed by WordPress theme company WooThemes, and then it was acquired by Automattic.
If you still need to launch your website, check out our post on How to Add a Shopping Cart to WordPress. You will get a complete idea of Installing WordPress, Installing WooCommerce, Configuring WooCommerce, Add Products, WooCommerce Payments Setup, etc.
WooCommerce Features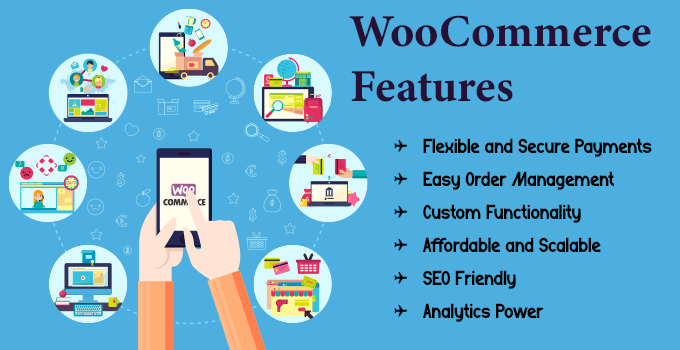 WooCommerce is a familiar name to most WordPress users, with plenty of features. So, without wasting much time, let's check out the most attractive features of WooCommerce.
1) Flexible and Secure Payments
WooCommerce can accept major Credit Cards, bank transfers, checks, and cash on delivery. You can also integrate it with 100+ region-specific payment gateways such as; WooCommerce Payments, PayPal, Stripe, Square, Amazon Pay, Apple Pay, Google Pay, etc.
2) Easy Order Management
Its admin interface is quite similar to WordPress. You can easily update the products and fulfill the orders. You can save time with automated tax calculations, live shipping rates from leading carriers, options to print labels at home, and the mobile app for iOS and Android.
3) Custom Functionality
WooCommerce has many plugins available to support your unique eCommerce business needs, thanks to its great developers' community. You can easily customize the plugin and add new functionality without much effort.
4) Affordable and Scalable
It costs nothing to add WooCommerce to a WordPress site. There is no transaction fee beyond that of the payment service provider, making WooCommerce the most affordable way to start selling physical and digital goods online and to scale from 1 to 100,000+ orders daily.
5) SEO Friendly
WordPress is the best platform for SEO, and WooCommerce runs on WordPress, so you can get advantages of this SEO-friendly platform. WooCommerce SEO requires consistent efforts, but with WordPress/WooCommerce, optimizing your website for SEO is easy.
6) Analytics Power
WooCommerce has in-built analytics to help you get valuable data about your eCommerce store without extra effort. You can get the total sales statistics by date, average order value, individual customer shopping state, and much more.
In addition to the features mentioned above, you will get the added advantage of selling any products, excellent security features, regular plugins and security updates, enhancing your store, and many more.
WooCommerce Pros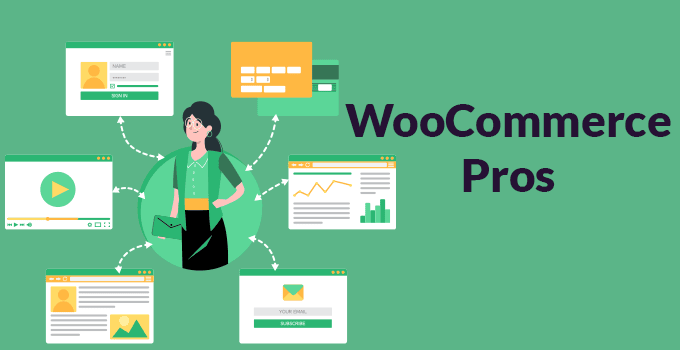 ⇒ WooCommerce is targeted at beginners, so its setup process is very simple and straightforward.
⇒ The essential WooCommerce plugin is incredibly light, and you can pick and choose only the relevant plugins to set up an optimized online store. So, you will have faster performance for your store.
⇒ You can use WooCommerce with any WordPress theme.
⇒ Updating the WooCommerce plugin is very easy. It is just a one-click update!
⇒ WooCommerce offers so many payment gateway options. So, small businesses can use any simple payment gateway to save time and effort.
⇒ It is easy to add new products using the WordPress editor.
⇒ It easily integrates with external services like print-on-demand services.
WooCommerce Cons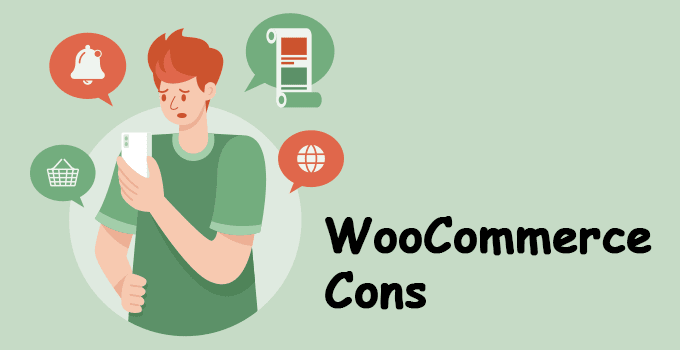 ⇒ WooCommerce is not an independent eCommerce platform but a WordPress plugin. If you don't use WordPress, you won't be able to use WooCommerce.
⇒ When you have installed additional plugins along with WooCommerce to manage your store, you should not update your WooCommerce plugin without testing it in the testing store. Because due to the multitude of other plugins, there can be enormous problems with the shop.
⇒ Sometimes, you might need to add additional plugins to achieve the customization you may need for your store. And such additional third-party plugins might conflict with your WooCommerce plugin.
WooCommerce Use cases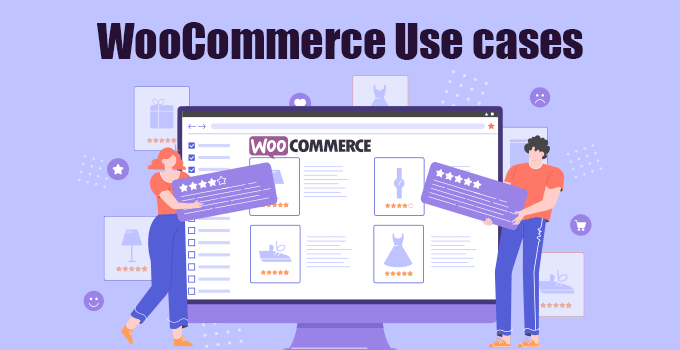 1) For a startup business and the store with low traffic, WooCommerce with WordPress site is the best and most cost-effective solution.
2) To get rid of technicality and complex customization of your store, WooCommerce is the option you should go with.
3) If you have a limited budget, WooCommerce is the best option to start the online store.
Magento vs WooCommerce – Comparison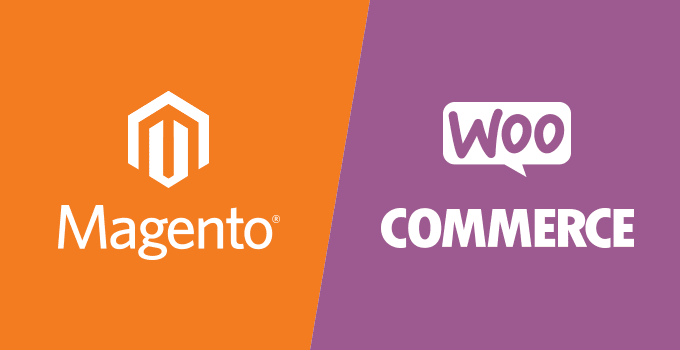 Let's take a look at Magento vs WooCommerce comparison table.
| | | |
| --- | --- | --- |
| Feature | Magento | WooCommerce |
| Pricing | Open Source + Enterprise edition. The enterprise license cost starts from $22,000 annually. The price will increase based on your gross revenue. | Completely free. |
| Ease of use | You need technical knowledge to use it. In many cases, you may need to hire a developer to manage/customize your store. | Very easy to install and manage. |
| Customizability | Due to its out-of-the-box features, there are so many customization options. But, again, you will need technical knowledge to run your store how you want. | So many plugins/extensions are available to customize your store using WooCommerce. |
| Scalability | Magento is a scalable eCommerce platform but primarily suitable for large-scale stores. | WooCommerce is also a scalable platform that is specially perfect for small or startup stores. |
| Security | Magento has advanced security features including cross-site scripting attack prevention and two-factor authentication. | WooCommerce offers sufficient security features to run your store safely. But you will have to update the plugin regularly. |
| SEO | Magento offers built-in functionality for generating sitemaps, controlling meta information for products and pages, and differentiating international storefronts. | With WooCommerce, you can install an additional plugin – Yoast, to enhance the SEO capabilities. WooCommerce wins the race of SEO for ease and accessibility of getting other functionality. |
| Payment options | With Magento, you can use PayPal, Authorize.net, Cash on Delivery, bank transfers, Stripe, 2Checkout, Braintree, WePay, Google Checkout, Skrill, and more. | WooCommerce has its own built-in payment options available. Additionally, you can integrate third-party payment gateways such as; PayPal, Visa & Master Cards, Google Pay, Alipay, and Amazon payments. |
| Customer support | Magento has a decent network of developers. You may find it costly when you encounter an issue requiring hiring a professional. | WooCommerce has a larger community of users. You can easily google the issue you are facing and get a quick solution to fix the problem. |
| Third-party integrations | Third-party plugin/extension is tricky compared to WooCommerce and requires some technical knowledge. | Mostly easy. With one-click installation, you can install any third-party tools/extension using WooCommerce. |
Magento vs WooCommerce – The Conclusion
After going through the post – Magento vs WooCommerce, you know that WooCommerce is Free, and Magento is Freemium. Both eCommerce platforms require hosting to run your store. Both these platforms support unlimited products. You can also customize your store the way you want. With WooCommerce, you can install additional extensions for analytics, while Magento has this built-in function. WooCommerce is beginner-friendly, while Magento is not.
Magento and WooCommerce both are widely used eCommerce platforms. However, if you want to run your small store or startup, go with WooCommerce. And if you have a large-scale store and can afford the additional cost of customization and development, you should go with Magento.
We at KemuHost, offer the best servers and web hosting on SSD NVMes, which are 10 times faster than regular SSD. You will have ultimate performance for your store with our server. If you have any additional questions or suggestions, feel free to write in the comment.